'A little girl's dream of a very special day'
The Hornsby House Core Values are at the heart of our ethos, with three of these values being to maintain an attitude towards others which is neighbourly, supportive and kind.
World Rainbow Day was created by ten-year-old Tilly Edgar to encourage everyone to do something positive to support the vital role played by key workers during the COVID-19 pandemic.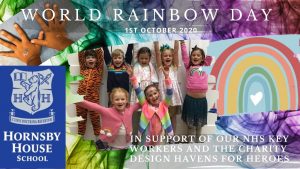 At Hornsby House we decided to mark the occasion by dressing up in our most colourful clothes in exchange for a voluntary donation to support the charity Design Havens for Heroes.